Let the Work Come to You
Did you know you can set up new project alerts from your Contractor Dashboard so you never miss a lead! Whether you're a general contractor, landscaper, drywaller, plumber or electrician, new projects are always on your mind. New work keeps your business busy and growing! You can setup new project alerts in just a few easy steps.
The Details
Step 1
Login to your Project UP Service Provider Dashboard. If you haven't already joined, click "Service Provider Registration"
Step 2
Click "Alerts" on the left menu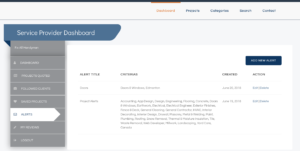 Step 3
Click "New Alert" on the right side of the screen
Step 4
Populate the form to customize your new project alert
Alert Title:Choose a custom name for the alert you are setting up
Minimum Project Budget:Enter an amount if you are only interested in alerts for projects above a certain budget (ex. I only want to see projects with a budget above $1,000.00). If you want to see all opportunities enter 0 or leave this blank.
Categories:Select the project categories you are interested in
Frequency:Select to receive Daily or Weekly alert notifications. You will get a summary of all projects listed within the select time period.
Location:Select your businesses operating locations.
Step 5
Click "Add Alert"
Project UP Does The Work For You
Once a new project alert is set up, you will receive an email summary of all new projects listed either daily or weekly. You can add multiple alerts or edit existing alerts as required. This great feature will ensure you never miss a new project opportunity again! Grow your reach now at www.projectupusa.com